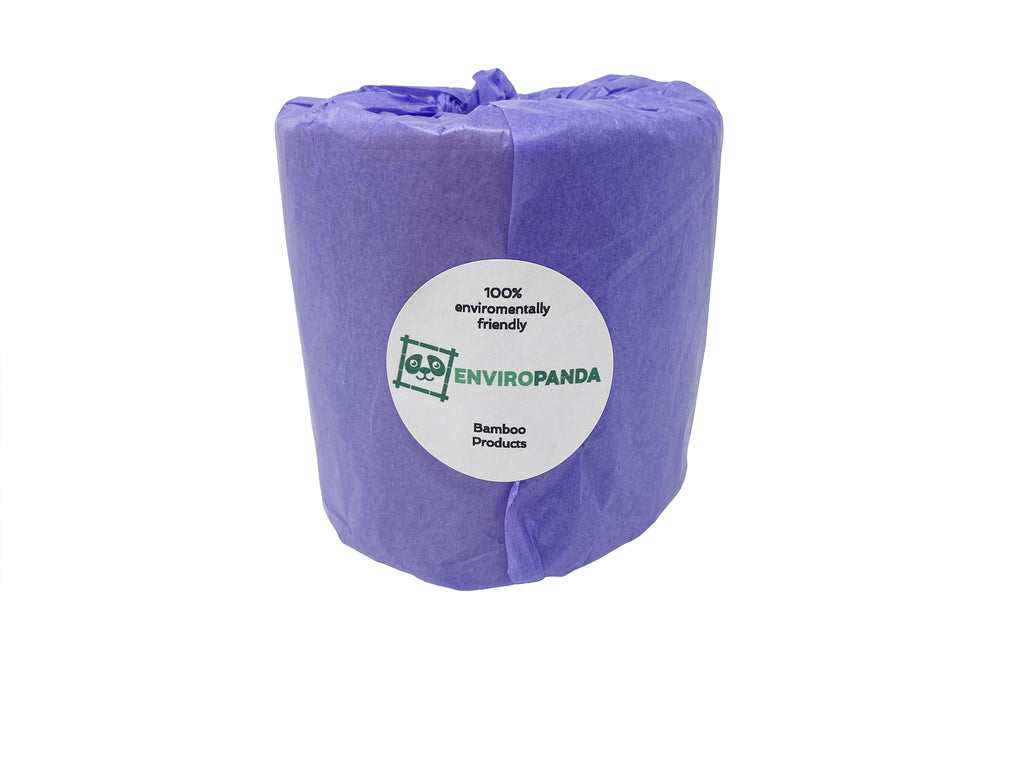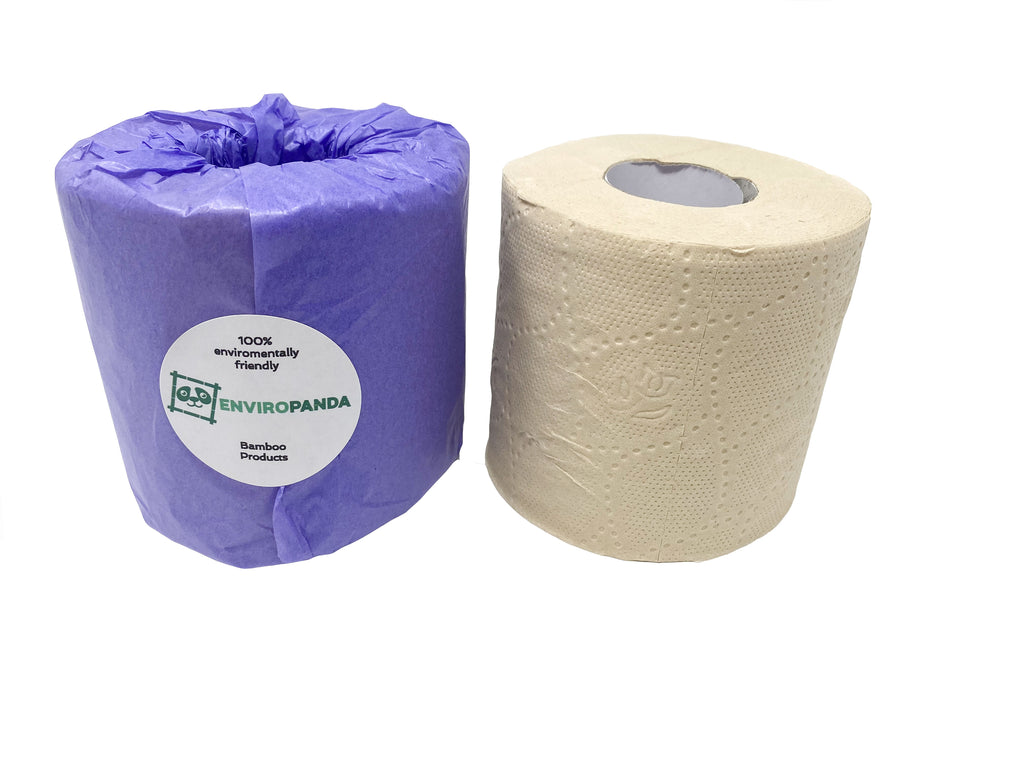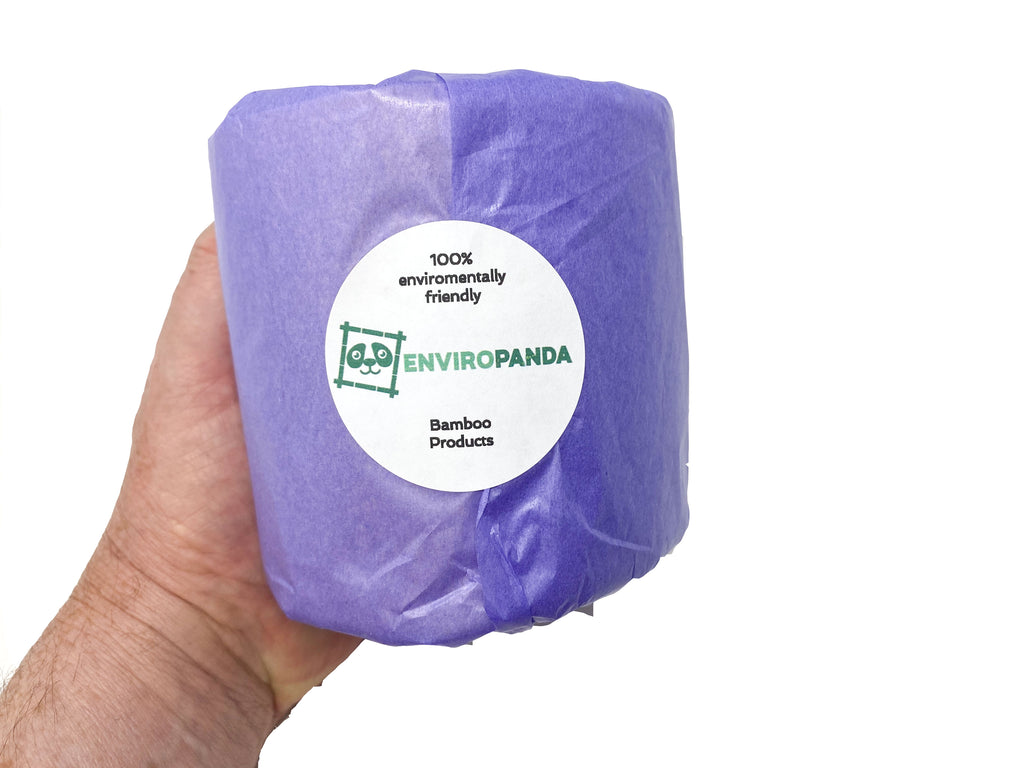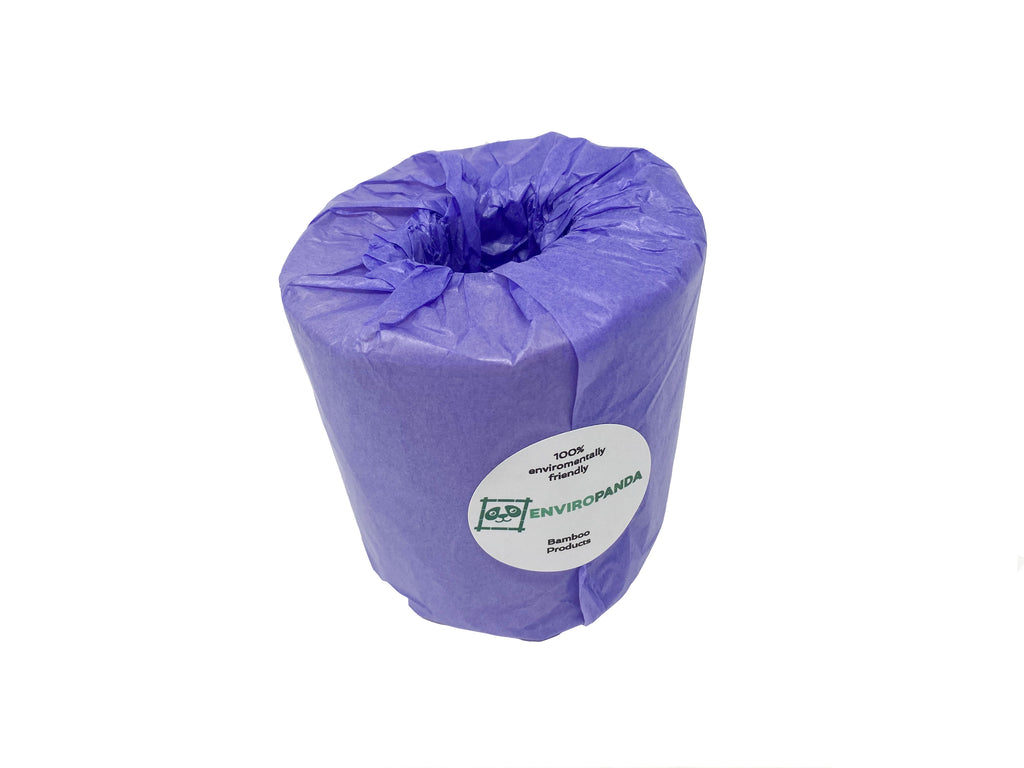 Enviropanda Bamboo Toilet Paper No Plastic 3 Ply Double Rolls Brown Color Bulk Individual Bamboo Toilet Paper Wrapped No Plastic
$26.00
Now in stock!

Even more environmentally friendly toilet paper no plastic toilet paper. If you do not mind not having the convenience of plastic wrapped and want to maximize the benefit to the environment.
Same great bamboo toilet paper but no plastic used. Each roll is individually wrapped in tissue paper and order is shipped in a recyclable box. 
EnviroPanda 100% Natural Bamboo Toilet Paper 3 Ply Double Roll - 12 or 24 Rolls Per Pack
100% BAMBOO PRODUCT: Crafted from 100% bamboo, EnviroPanda toilet paper is a pure product that contains none of the chemicals, dyes, or chlorine bleach commonly found in big-brand toilet tissue. EnviroPanda retains the natural brown color of bamboo.
BIODEGRADABLE & SEPTIC SAFE: EnviroPanda toilet paper comes in double fixed rolls containing 240 sheets of 3 ply softness. Each sheet measures 10cm x 10cm and is fully biodegradable, meaning EnviroPanda toilet paper is ideal for use with septic systems.
LUXURY STRENGTH & SOFTNESS: Bamboo is known for its strength and durability and is also the source of many luxury fabrics. By using 100% pure bamboo (with no added sugarcane pulp), EnviroPanda has created a toilet paper that is as soft as it is strong.
RENEWABLE & SUSTAINABLE RESOURCE: EnviroPanda bamboo toilet paper comes from a renewable and highly sustainable natural product: forest-friendly bamboo. This fast-growing resource can be cultivated without the use of any harmful  herbicides, pesticides, or fertilizers.
REDUCE HARMFUL CO2 EMISSIONS: Bamboo is a naturally carbon-absorbing substance that has been shown to release 35% more oxygen than the hardwood trees used in producing toilet paper. So, switching to bamboo helps boost the planet's O2 while reducing harmful CO2.
ABOUT OUR TISSUE:
EnviroPanda toilet paper is the ideal choice for those who are looking to make the world a better place. With 240 sheets per double roll, this 3 ply product is made from 100% sustainably harvested bamboo and contains no added sugarcane pulp. The result is a toilet paper that combines strength and durability with indulgent softness. 
Historically, toilet paper production has taken a heavy toll on the environment. Huge tracts of virgin forest are cleared so that the wood can be pulped, refined, chemically-bleached and artificially scented, manufacturing a highly unnatural "natural" product. In contrast, EnviroPanda toilet paper is crafted from 100% pure bamboo, a fast-growing species of grass that is highly sustainable and that is harvested without the use of herbicides, pesticides, or fertilizers. EnviroPanda toilet paper embraces the natural color of this environmentally-friendly product, ensuring no chemicals, bleaches or dyes are used.
EnviroPanda toilet paper comes from a renewable resource that is completely biodegradable, making it safe for use with all septic disposal systems. The ideal earth-conscious choice for the eco-friendly consumer, with EnviroPanda toilet paper you can enjoy premium softness without feeling like you're flushing the world's forests straight down the toilet.